Patient Frequently Asked Questions (FAQ)
Welcome to the Rascal Creek Physical Therapy website Patient FAQ section. The purpose of this section is to answer some of the questions you have or may have before you arrive for therapy. However, if you have a question of a more immediate nature that you want answered before you arrive for your visit, please call us at (209) 722-1030.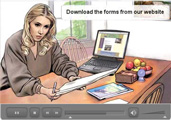 Running time: 3-1/2 Minutes
Requires Flash 8
Welcome to the Rascal Creek Physical Therapy website Patient FAQ section. The purpose this section is to answer some of the questions you have or may have before you arrive for therapy. Click the questions below for the answers to commonly asked questions. However, if you have a question of a more immediate nature that you want answered before you arrive for your visit, please call us at (209) 722-1030.
On your first visit, your therapist will perform an evaluation to determine what deficits and/or problems you have that can be addressed in therapy. The evaluation involves a thorough history, objective testing and measuring, following which your therapist will form an opinion as to the specific problems we can change. A treatment program will be developed aimed at resolving the problems identified in the evaluation, as well as to attain the goals set by the therapist in conjunction with the patient. Your first visit with the evaluation and treatment may take as long as two hours so schedule accordingly. We suggest you bring or wear comfortable clothes for moving and exercise.
The treatment you receive at Rascal Creek PT will depend upon what the therapist finds in the evaluation. Our treatment programs are mechanically oriented with a non-dependent therapeutic approach. We emphasize mobilization, self-treatment, and therapeutic exercise so the long-term solution to the problem is in your hands. We may use "feel good" modalities, such as massage, ultrasound, heat, electrical stimulation, etc., which assist us with anti-inflammatory effects, decreased pain and improved mobility. Each program is designed with the patient in mind - taking in account your individual symptom profile, needs, current functional level, patient goals and problems areas.
Treatment time will vary according to what the therapist finds in the evaluation. There is no specific time limit for therapy at our office. The specific problems are found during the evaluation will become part your treatment program. Your program will be updated as necessary as your condition improves. In general, therapy visits last anywhere 1 1/2 hour to 2 hours with somewhat longer time being necessary for this first visit because of the evaluation. If you have time constraints, let us know in advance and we will work around your requirements.
Because your therapist will perform a meticulous evaluation, quantifying and qualifying all the deficits and problems you are presenting with, re-evaluation, and re-measurement to determine progress are possible. You will be re-evaluated on a periodic basis, the frequency of which will depend upon your diagnosis as well as the chronicity of the problem. In general, patients are re-assessed weekly with a more formal re-evaluation anywhere at 2 to 6 week intervals. Additionally, the therapist always needs to be aware of follow-up visits with your physician, as a re-evaluation will be performed so that the physician can be updated at that time. Let our staff know about the timing of your next doctor appointment, either verbally or on our daily sign-in sheet.
The therapist will communicate with your physician most commonly by written report. Our staff will send a complete written report outlining the findings of the initial evaluation as well as an assessment of the problem and an outline of the general treatment and frequency of planned visits. The therapist will continue to update your physician with written reports each time you are formally re-evaluated and most specifically prior to your return to the physician. This is why it is so important that you let your therapist know if you have an appointment with your physician. Additionally, the therapist will, as they feel feel appropriate, contact the physician by phone if they have a specific concern or question. At the end of your treatment, the therapist will send a follow-up report to your physician with a discharge summary about your status at the time of discontinuing therapy.
Our goal at the Creek is to resolve your problem completely so that you don't require continual follow-up or maintenance care. Self-treatment with instructions for home exercise and care should be well understood and performed after discharge. There are some patients who do require follow-up care or re-assessment on a periodic basis and this will be discussed with you once you are in therapy or at discharge. If you have symptoms that return, if you feel you could use more advanced exercises or if you just want to say HI, we will always make you welcome at the office. Wellness for life is our priority and you may benefit from one of our wellness programs after discharge.
If you have a recurrent problem after your discharge from therapy, you might need to return to therapy. How you get back into treatment will depend on a number of factors. It might make a difference if it was a re-injury of the same specific problem, how long it has been since you were last in physical therapy, how long it's been since you saw the physician, or many other factors. In general, if you are discharged from physical therapy and feel the need to return, you should contact the office and ask for a call back from the therapist who treated you. They will review your chart and contact you to discuss what can be done. It may necessitate another visit or call to your doctor. It may be as simple as a few suggestions given over the phone. You might be asked to return to the office for another evaluation or to have your current program modified. When in doubt, call. We'd love to hear from you!
In general, starting therapy and the process of healing should be done as soon as possible. Early intervention may reduce the overall treatment time to get you better. If allowed to go on too long, your problem might become chronic and more difficult to resolve. If you are in pain or you are in an acute phase of the problem, your therapy will be modified according to your signs and symptoms. What therapy can do for you may depend on your clinical stage when you arrive in addition to the diagnosis. After the evaluation, your care will be modified according to the signs and symptoms during the acute, sub acute, and chronic phases of your problem.
Absolutely. If you have a problem that you think can be helped with therapy, don't hesitate to give us a call. After discussing your specific problem with you, we may be able to give you treatment suggestions or indicate if therapy can help in your situation. You can also give your doctor a call. Many physicians are very aware of the benefits of therapy in early and later intervention for musculoskeletal problems. In fact, several of our "favorites" have had therapy here themselves! In today's managed healthcare situations, if you feel therapy can be helpful to you, you will need to stress your feelings to your doctor. You are your first and best advocate. We'll help if we can.
Because of the many differences in today's health insurance and the wide variety plans available, coverage for physical therapy isn't a sure thing. What each plan covers specifically varies greatly. Please review our billing and insurance participation section on this web site and if you have additional questions regarding your specific insurance, give us a call. We will act as your advocate in the insurance intervention process if we can.
If your physician gives you a referral to physical therapy, simply call our office for an appointment. Our clinic hours and location are explained on the location and hours page of this website. Our office staff will get all the necessary information from you and assist you with an appointment. We have an answering machine for after hours calls. We will return your call if you leave a number where you can be reached the following day. That's a good time to share information about insurance, scheduling and any other concerns you'd like to address before you come into the office.
In general, wear comfortable clothing to therapy. If you are presenting with a problem of your cervical spine, upper back or shoulders, the therapist can provide you with a gown as needed to expose these areas for treatment. If you are coming for a lower extremity problem, shorts are important - available at the office if you don't want to bring your own. You can bring whatever you prefer to wear with you and change at the office if you like. Comfortable shoes are a good idea. For any special concerns, call and we can address them.
For your first visit, you will need your prescription, your insurance card, any paperwork that was sent to you that needed to be filled out. If your injury was on the job, bring the name, address and phone number of your employer. If you have any other workers' compensation papers, bring those as well. This may include a copy of your physician's first report or a letter from the comp carrier. If you have any operative reports, MRI or X-ray results, you may bring those as well, but they are not necessary. Additionally, if you are utilizing any type of brace, splint, or crutches, these should come with you. When in doubt, call and ask before leaving home.
If you have any dramatic increase in symptoms after therapy, please call your therapist. When you call the office, please be sure you explain to the office staff that you are having an increase in symptoms. The office staff will pull your chart and contact your therapist or a covering physical therapist. They will be able to review the information and will give you a call back that same day. After we discuss the case with you, we will be able to give you guidelines as to what would be appropriate to reduce your symptoms, whether you need to come in our office, or if you should contact or follow-up with your physician. It is best to call us prior to calling your physician if a change in symptoms has occurred. It is important that he gets a report from us about any clinical findings so that he can be up to date on your care when you see him for any follow-up visit.
Oftentimes, your physician will give you a recommendation or a listing of therapy offices in your area. Sometimes your insurance company will guide you with regard to who is "in network" for your insurance plan. Ultimately, however, the decision as to where you receive your care is up to you. If you have a specific request, you need to let your physician or insurance company know. If we are not in network for your insurance company, most plans have out of network benefits that will allow you to make your choice in therapy. Please see our billing section for more specific information. We can also make special arrangements based on needs.Call if you have a question and don't find an answer at this web site.
In therapy, our goal will be to resolve your problem, not just temporarily relieve it. Although medication and other forms of treatment can be helpful in relieving symptoms, therapy specifically produces a long-term result. Your physician may opt to utilize medication in conjunction with therapy depending on your diagnosis. Additionally, formal therapy treatments, unlike some other forms of treatment, are not designed for long-term care in our office. As part of our Wellness programs, you may continue to come to the Creek for exercise and professional supervision of your program. We will work with you to get better, stay better, live longer, and... OK, just get better and stay better.
We ask that our patients:
Give 24 hours notice when possible for cancellations; the answering machine is on 24 hours a day.
Call if you have a question or a concern or if you will be late. We will do our best to fit you in but need to know in advance for consideration of other patients.
Be on time. All patients are taken within 5 minutes of their scheduled time.
Notify your therapist at least one week prior to returning to your physician. The therapist must have this date in order to properly schedule a re-evaluation to update your physician on your progress.
Schedule appointments in advance and have the proper number of visits scheduled. If you don't schedule your appointments in advance it will be more difficult to give you the times that you desire.
You are our partner in your recovery. Your therapist cannot do it without you! We ask that all patients cooperate by following through with their home exercise programs and instructions, as this is extremely important in expediting your recovery.
Because of our expertise. Rascal Creek Physical Therapy is widely regarded as a leading expert in therapy. Physicians regularly send their own office staff and family members to our facility. We are dedicated to resolving your problems in an environment that is welcoming and relaxed. Patients receive personalized care, not an assembly line atmosphere. If you are still not sure, feel free to give us a call or stop in to speak to one of our therapists. Be part of the Rascal Creek family. We offer a comprehensive rehab practice under one roof - Physical Therapy, Vestibular Rehabilitation, Occupational Therapy and Speech & Language Therapy as well as Wellness care options following discharge.
Rascal Creek PT is working to develop and promote wellness programs that are available to the community. This includes our newest Gravity classes - both Group classes and Pilates classes. As we expand our Wellness care options, call and find out if we have just the right option for your long-term health. We want to be Your Place for Health!
[Printable Version]